Congratulations to Canaan Fechner, Faith Goehring, Sirenity Goehring, Colby Brown, Louis Lippert, Gracey Schatz, Izzy Schmidt, and Andruw Hampe for being chosen to perform with other area students in the Region V Festival Concert in Gregory on November 22. Pictured are Canaan, Faith, Sirenity, Colby, and Louis.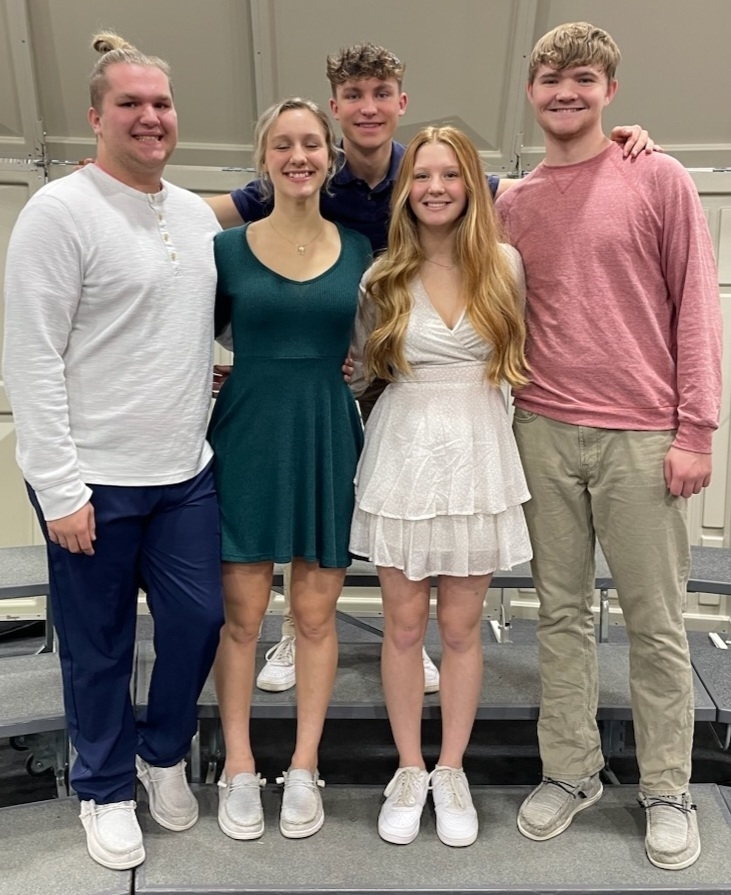 Congratulations to Emily Dewald, Lilly Fechner, and Kattee Milian for being selected to perform at the Yankton Honor Band concert in Yankton on November 22nd. Pictured with the girls is band director Mataya Larsgaard along with two Avon band members.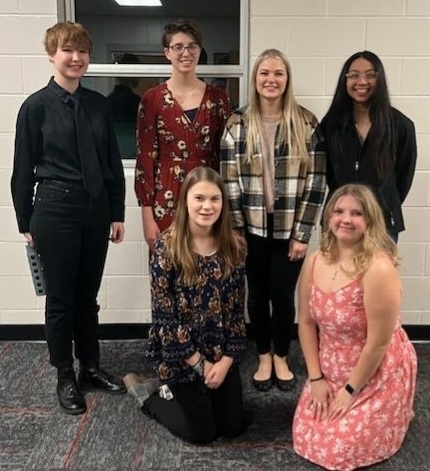 Mark your calendars to attend Nighthawk Junior High Boys Basketball games! Schedule is subject to change so please check school calendar for updates.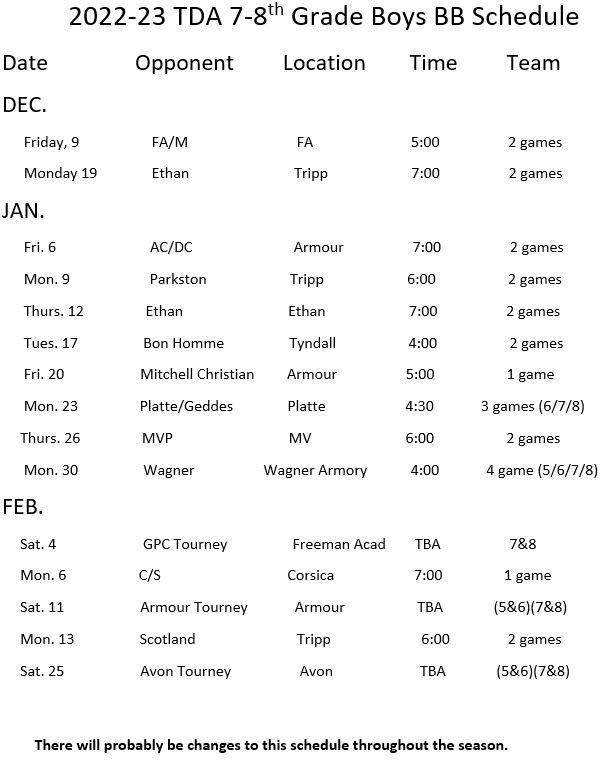 American Education Week is celebrated Nov 14-Nov 18, 2022. Each day has a theme, during which public schools are recognized. Festivities honor those who work in our nation's public schools. This week we thank everyone who makes an effort to help our student succeed. #AEW2022

Today students in 1st Grade through 12th Grade engaged in democracy by participating in Kids Voting South Dakota. Each student was given a unique ID to cast their vote. Results of the National Kids Voting Election will be released on November 8. #KidsVotingUSA

SODAK 16 VOLLEYBALL FAN BUS TRIPP-DELMONT STUDENTS, PARENTS, AND FANS CLICK THE LINK BELOW TO SIGNUP TO RIDE THE FAN BUS
https://bit.ly/3UnnK0E
We want to let our fans know that Tripp-Delmont School District 33-5 will be using our school busses and sponsoring FREE transportation to the game on Tuesday night. Students in Grades 5-12 as well as any parents or fans may sign up to ride the bus to the SODAK 16 Volleyball game. You will also be able to stop at the school on Monday, November 7 before 4:00 PM and add your name to the list. We need to know how many are interested before Tuesday so drivers can be arranged. We hope to have a big crowd at the game on Tuesday! We hope you will come out and support our TDA Nighthawks and cheer them on to the Class B State Volleyball Tournament! #GoNighthawks #SODAK16 Jeremy Hurd Superintendent Tripp-Delmont School District 33-5

ATTENTION TDA NIGHTHAWK VOLLEYBALL FANS!! OPEN TO THE PUBLIC TDA Lady Nighthawk Volleyball Pep Rally Thursday, November 3 Tripp-Delmont Gymnasium 3:00 PM CT Please join us as we cheer our TDA Lady Nighthawk Volleyball players to victory as our team heads to Bonesteel in the Semi-Finals in the Class B Region 5 Volleyball Regions to face the Wessington Springs Lady Spartans!! At the Pep Rally, the schedule is: 🔳 School Song 🔳 Cheers 🔳 Student Game 🔳 Speeches 🔳 Slide Show 🔳 Victory Tunnel Good Luck tonight Volleyball players and coaches!! We are proud of you! #GoNighthawks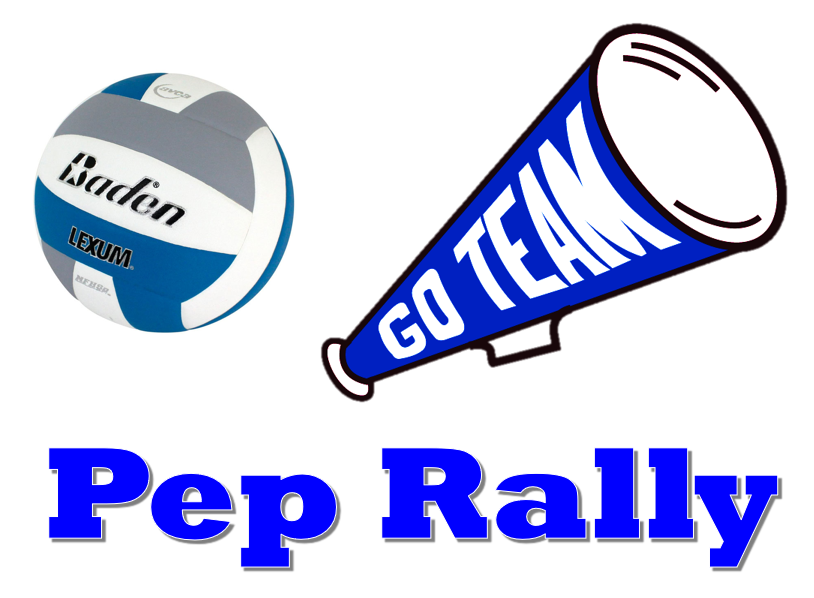 Tastefully Simple Fundraiser Junior Class November 2022 The Junior Class of Tripp-Delmont High School during the month of November are doing a Tastefully Simple fundraiser. The students who participate and sell these products will earn up to 40% of their sales. Tastefully Simple products take 2 ingredients or less to prepare. The products are all 100% customer satisfaction guaranteed! If you are interested in ordering online please click on the link below and your order will be shipped directly to you. Please let the student you are buying to support know that you made your purchase online so they can get credit for it. Here's the ordering link:
https://www.tastefullysimple.com/p/11460787
Here's a link to the Facebook group.
https://www.facebook.com/groups/1670923459969915/?ref=share_group_link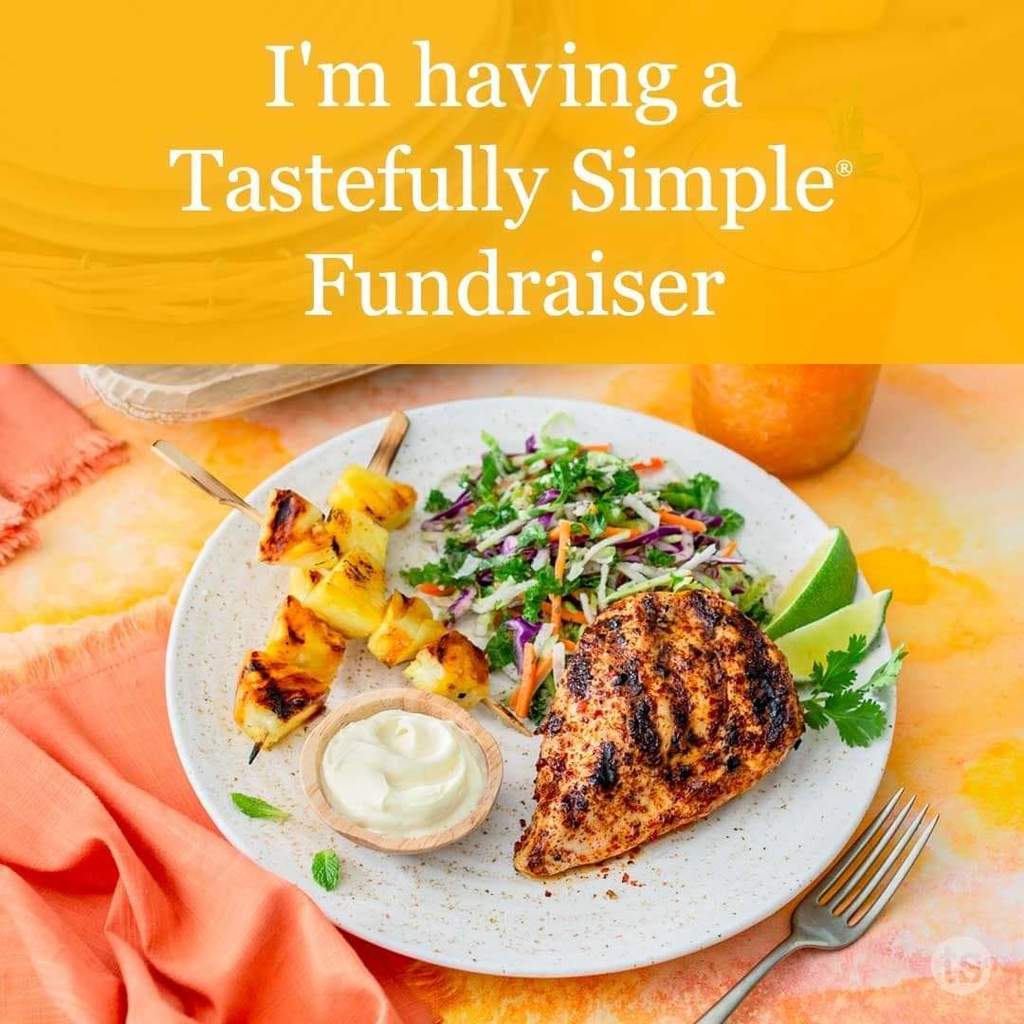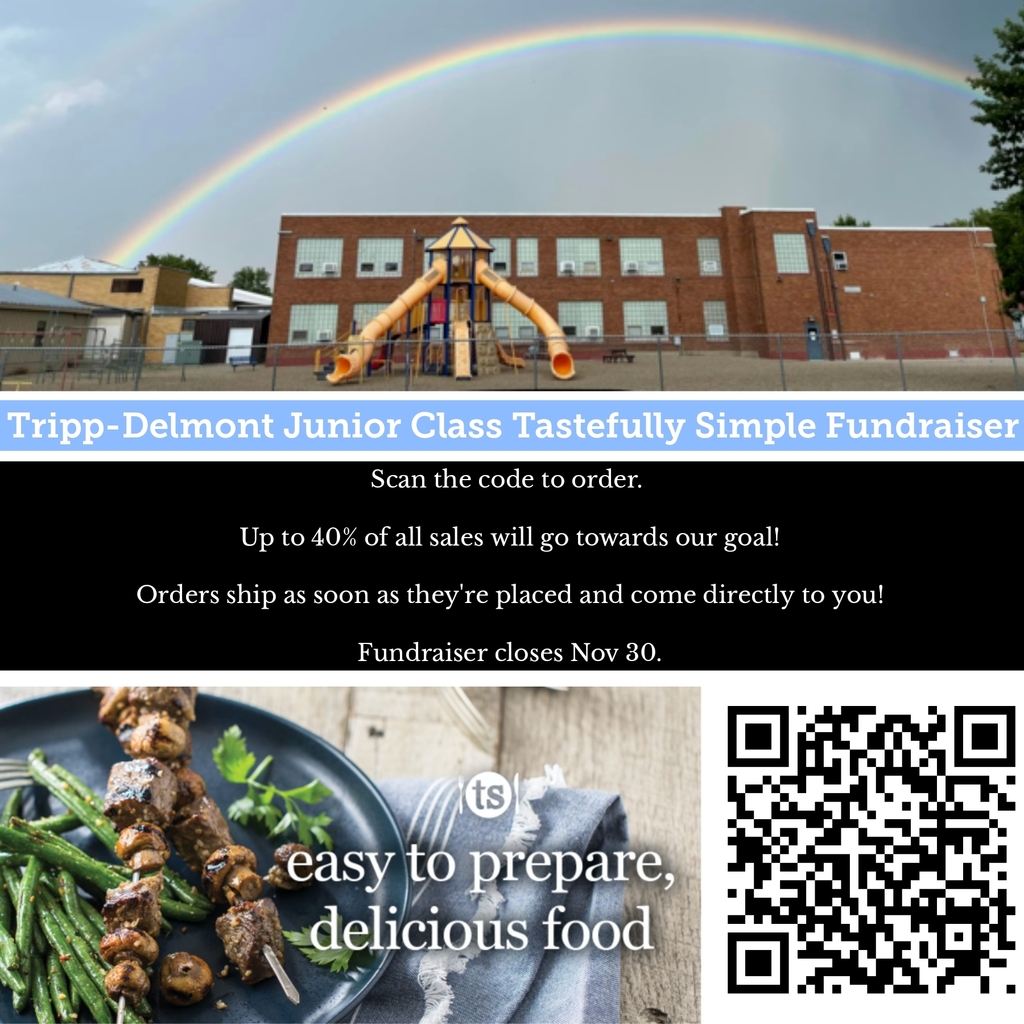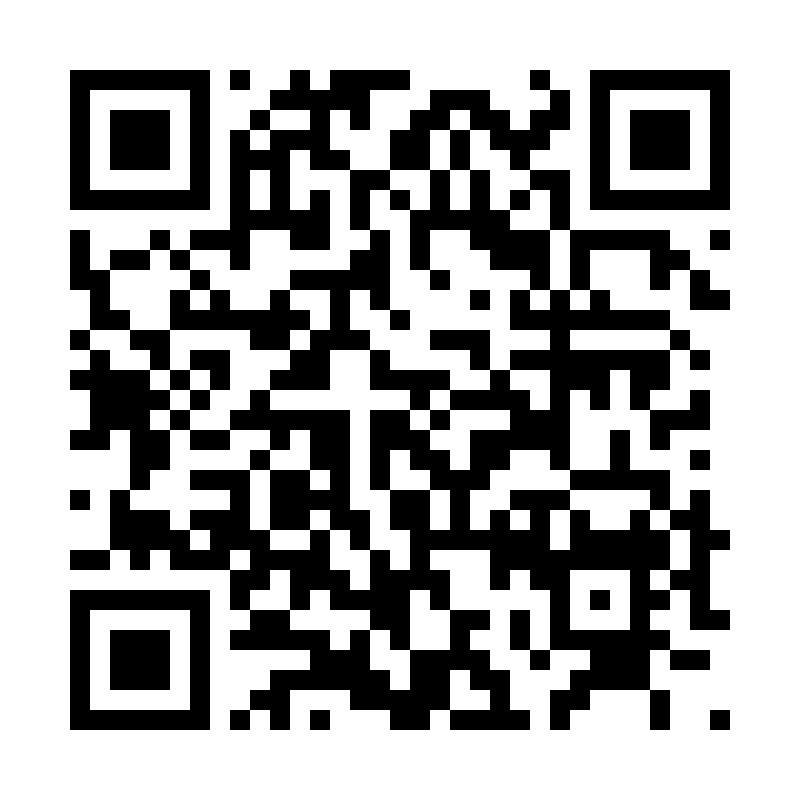 The SD Department of Education published the 2021-2022 State Testing Report Card this month. The online resource provides a wealth of data to help parents, educators, and community and state leaders understand how their public schools perform . View Results Here:
https://sdschools.sd.gov/
In releasing the information, Secretary of Education Tiffany Sanderson had this to say: "This year's Report Card shows a pattern of holding steady through turbulent times. That's remarkable, considering the challenges schools have faced these last two years, and it's a reflection of South Dakota's commitment to prioritize face to face learning." More than 75 percent of school districts stayed on par with, or improved, proficiency rates in English language arts and math, compared to student performance in the 2018-19 school year. Eighty-eight percent of districts saw stable, or slightly improved, on-time graduation rates. Read the full press release. here:
https://news.sd.gov/newsitem.aspx?id=31733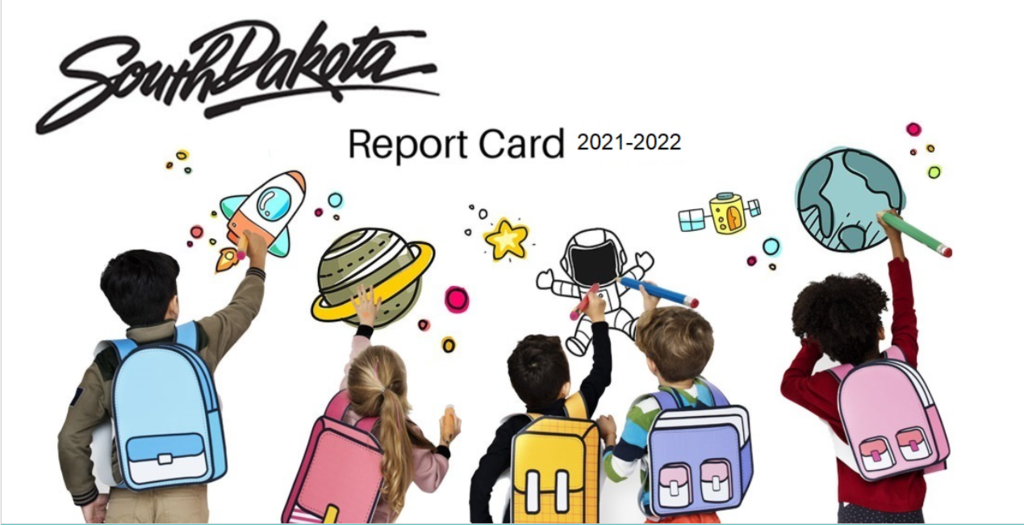 TRIPP-DELMONT SCHOOL DISTRICT 33-5 IMPORTANT ANNOUNCEMENTS October 21, 2022 The Tripp-Delmont School District will be holding Parent/Teacher Conferences tonight on Friday, October 21 from 2:00 PM-7:00 PM. A parent note was sent home in the past week with instructions for parents on how to sign up for a scheduled time for your child and their parent-teacher conference. Links to the Sign Up Genius site are here
https://bit.ly/3TlHPUv
and posted on our school district webpage at the link PTC Signup, Tripp-Delmont School District Announcements page, and our Facebook page. If you have any questions, please call the school. Second, Avera St. Benedict Health Center will offer a Flu Vaccine Clinic on Thursday, October 27 at the school for our students. Please be sure to fill out and return the parent permission forms that were sent home if you have not already done so. Lastly, as a reminder there is NO SCHOOL on Monday, October 24 per the school district calendar. Thank You and we look forward to seeing you at conferences today! 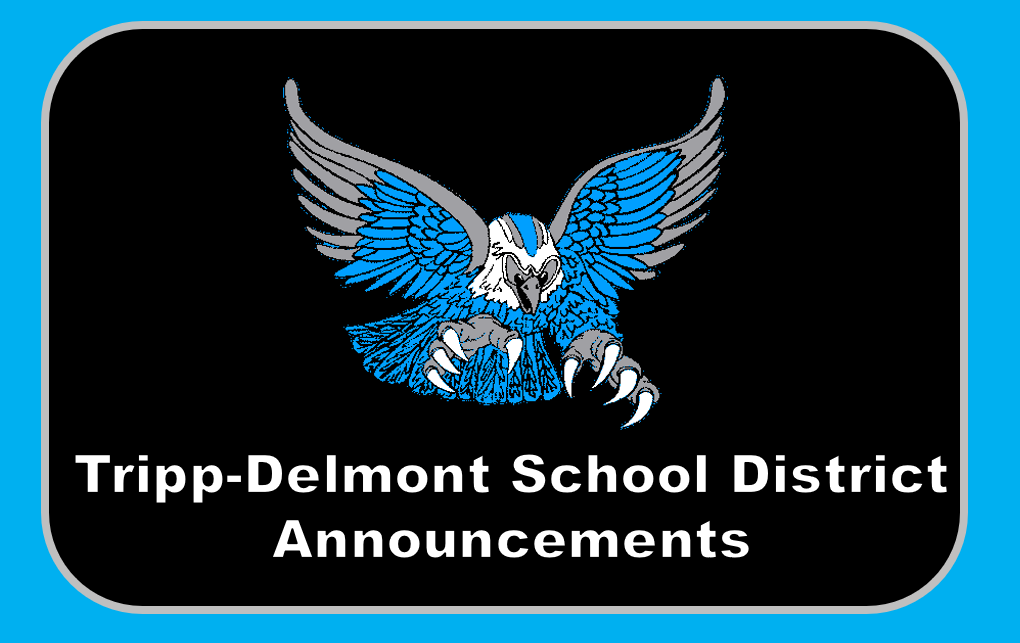 Kindergarteners are learning the keyboard.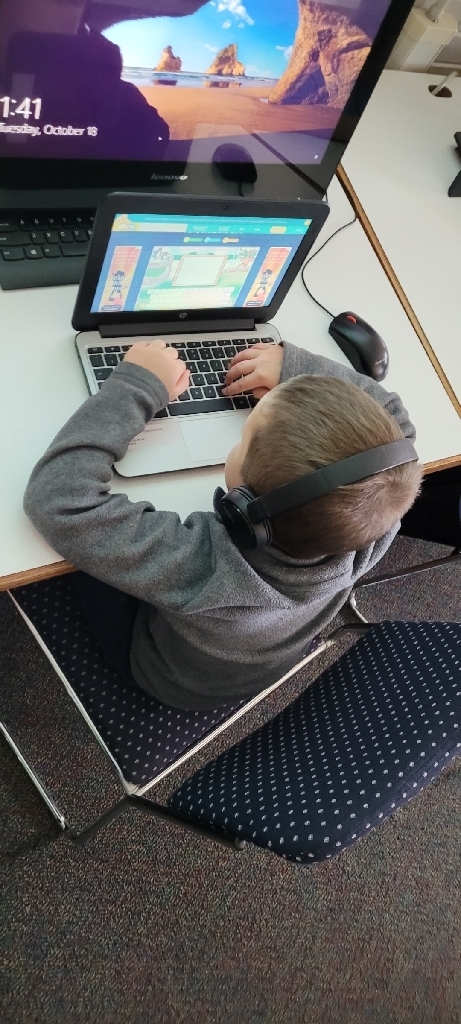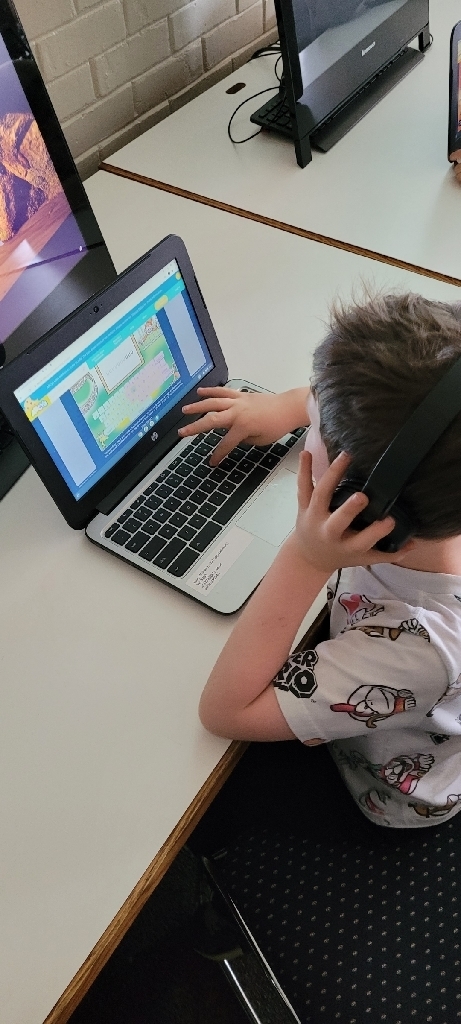 First graders practice logging into chromebooks successfully on their own.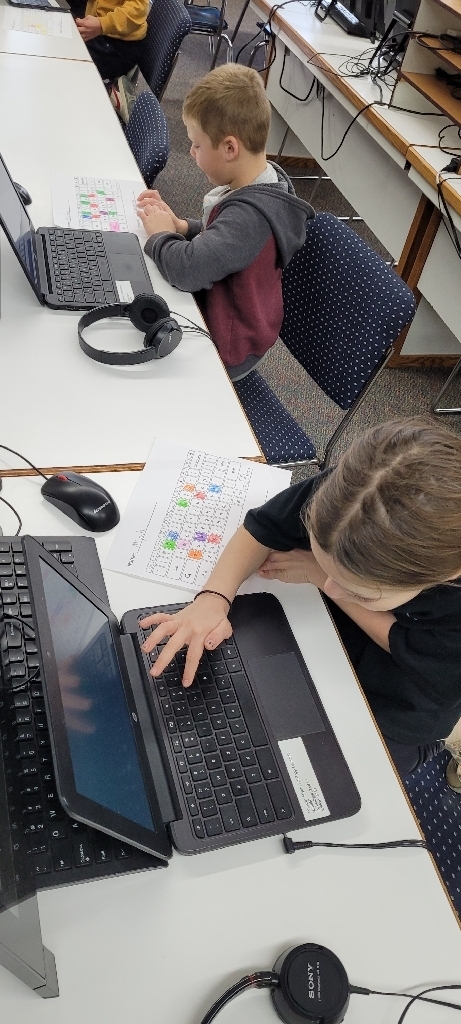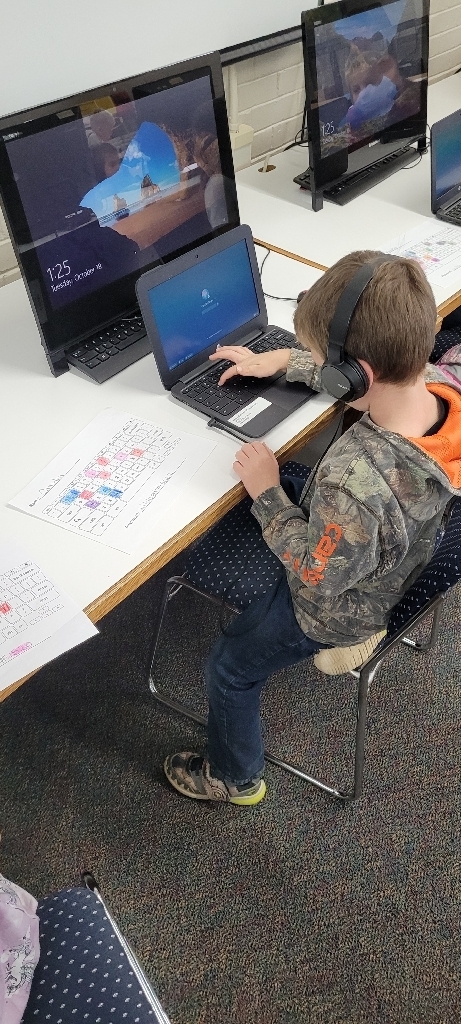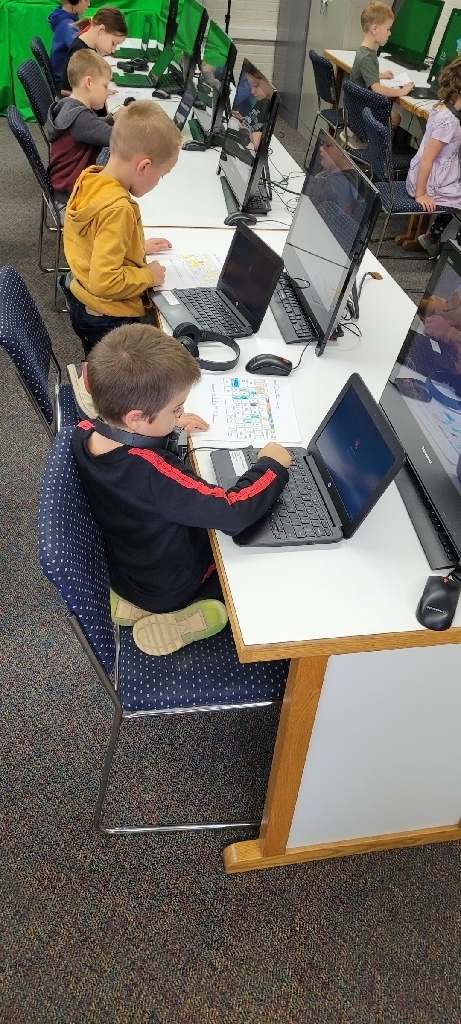 First graders are working with passwords. They colored the letters and numbers on paper. Then used that to practice logging in successfully on their own.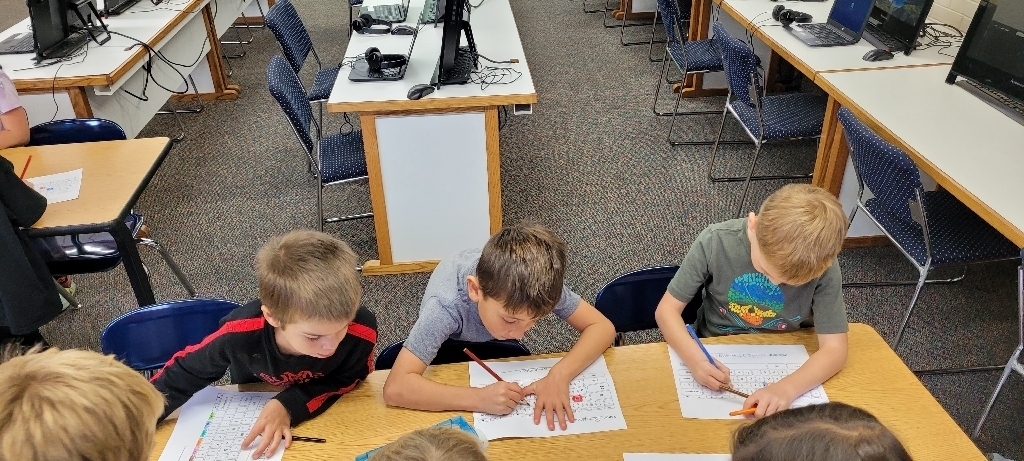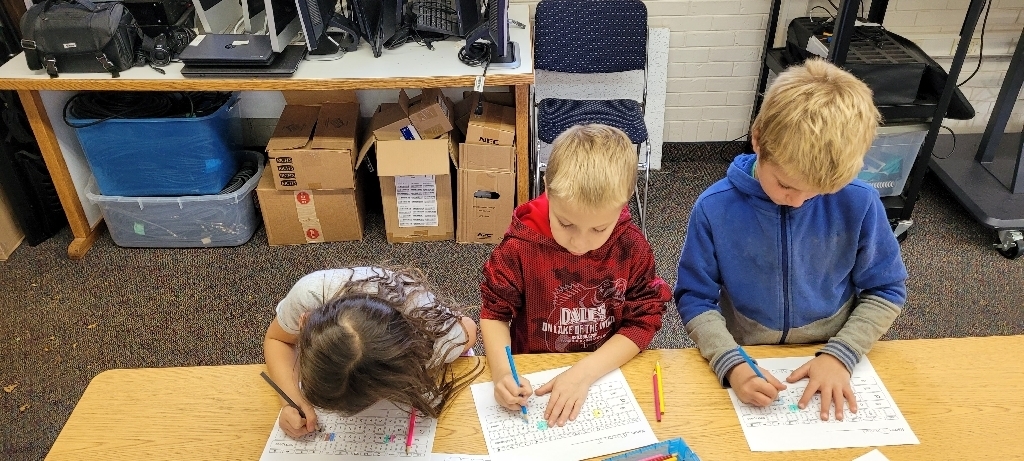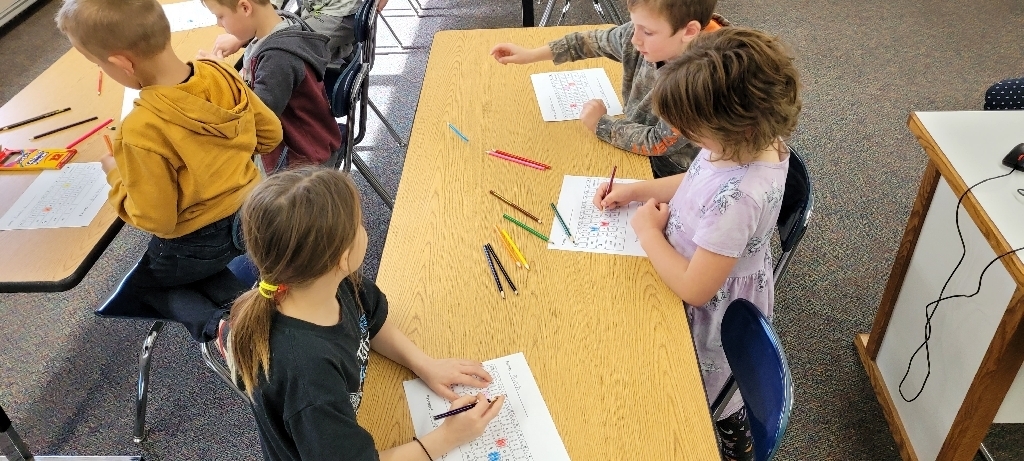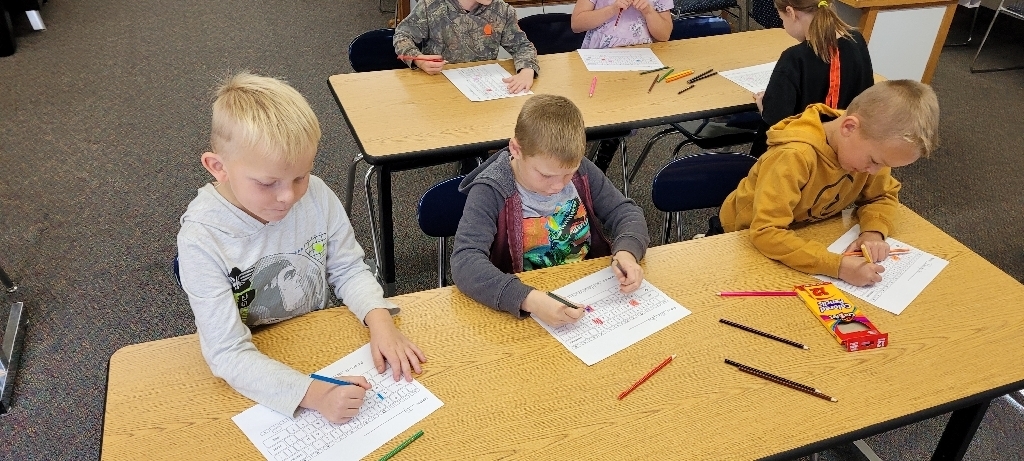 What: Thunderhawk Football Banquet When: Monday, November 7th Time: 6:30 PM Where: Armour Gymnasium There will be a potluck supper at the event. Coaches will announce awards for this year, letter winners, and discuss the past season of football and year ahead for the football program. The event should conclude between 7:30 PM-8:00 PM. Mark your calendars and we hope to see you there! Kendall Strand Head Football Coach TDA/ACDC Thunderhawks

NOW HIRING!! SUBSTITUTE TEACHERS for 2022-2023 SCHOOL YEAR!! Apply online here:
https://www.tridel.k12.sd.us/page/employment
The Tripp-Delmont School District 33-5 is currently seeking to hire substitute teachers willing to work with students in Grades PK-12. If you like working with kids, a flexible schedule, and want to join our team, we encourage you to apply!! Uncertified Subs--$105/day Certified Subs--$135/day and $165/day for 10 consecutive days or more in same position. Thank You! Jeremy Hurd Superintendent Tripp-Delmont School District 33-5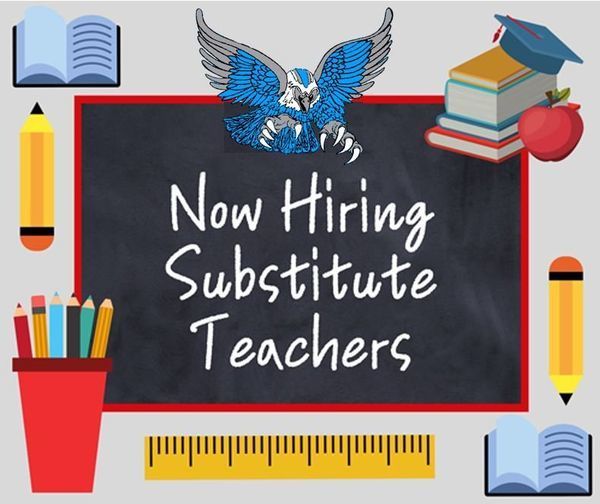 TRIPP-DELMONT SCHOOL DISTRICT 33-5 PARENT-TEACHER CONFERENCES FRIDAY, OCTOBER 21--2:00 PM-7:00 pm SIGNUP FOR A CONFERENCE TIME AT THE LINK BELOW
https://bit.ly/3TlHPUv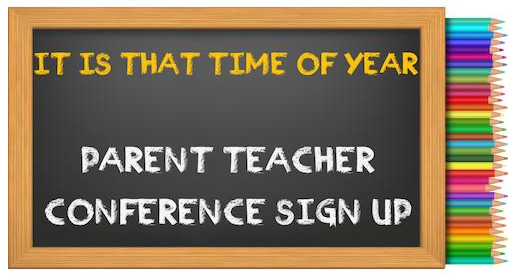 Tripp-Delmont School District 4th-6th Grade Boys Basketball Registration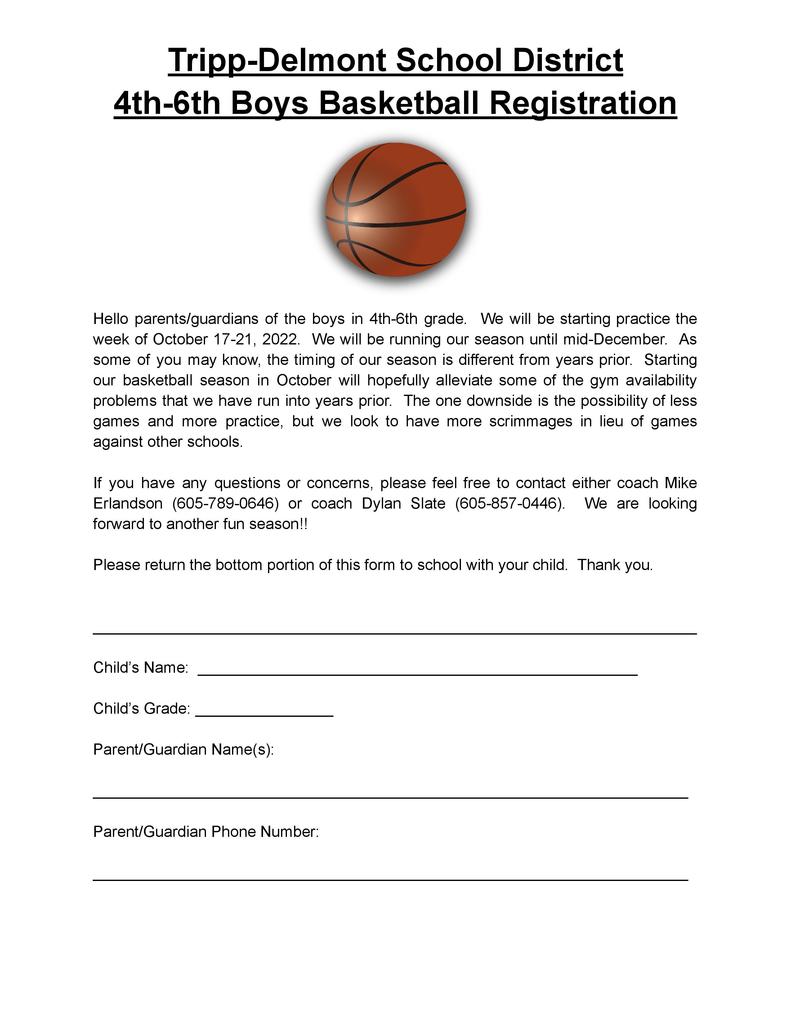 DAKOTA DREAMS ONLINE TUTORING PROGRAM
https://ourdakotadreams.com/launch-your-dream/online-tutoring-program/
The Dakota Dreams Online Tutoring Program provides free online tutoring to K–12 students in South Dakota in the subjects of English/Language Arts, Math, Science, and Social Studies. Parents can register students for virtual one-on-one tutoring sessions using a simple and secure online platform. Once registered, sessions can either be pre-scheduled or accessed on-demand. All sessions are taught by university students already accepted into the School of Education at Northern State University or Black Hills State University. The program offers one-on-one virtual tutoring sessions using an online platform seven days a week, excluding holidays. Supporting individual student learning needs, tutors help with homework, specific subjects, and broader educational concepts.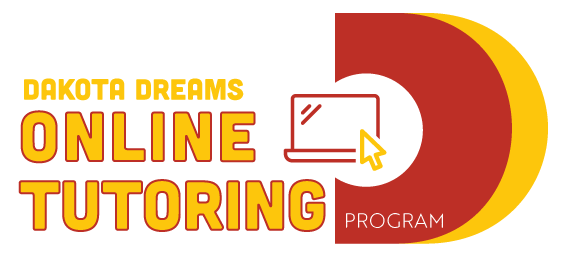 TRIPP ACTION GROUP (TAG)-VOLUNTEERS NEEDED TAG needs help with the kid's carnival during Hometown Christmas event in December. There is a meeting Wed. October 5th at 6 pm at the Dugout if anyone would like to join us to discuss. Thank You! Shawn Bietz Tripp Action Group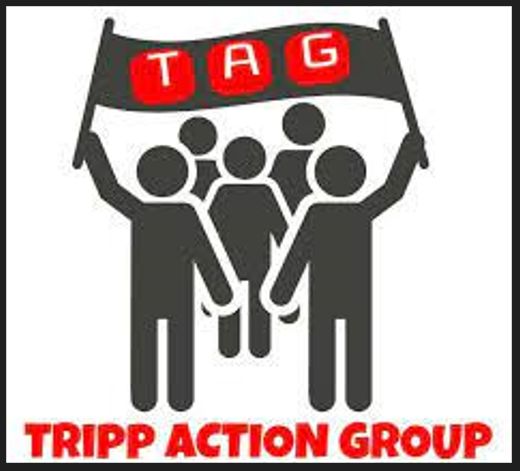 The Lady Nighthawks will compete in the Great Plains Conference volleyball tournament on Saturday, October 1st, in Lake Andes.